It is not mere coincidence that I select David Goldblatt as the second documentary master photographer to investigate.
Goldblatt is arguably the best documentary photographer that South Africa delivered. But as an Afrikaner, he visually activates my neurons and synopsis', when I view the world he photographed touching endearing childhood memories. I concur with Anjie Krog when she states "I am moved by these photographs of David Goldblatt as it is us- and everything we are down to the sediment. We wrought from an overwhelming landscape, embedded in stone – our eyes sweep the widest sky (Goldblatt, 2007) ."
So who was David Goldblatt? He was born on the 20th November 1930 in Randfontein, South Africa a gold, mining region 25 km from Johannesburg. His liberal and well-read parents were children of Jewish Lithuanian-Latvian refugees that fled persecution in 1890 and settled in South Africa. His interest in photography started while he was in high school and managed to teach himself photography despite limited equipment and resources. As a young photographer, he photographed the mines and his friends. The young Goldblatt's skills were developing as illustrated in the photographs below. His ability to document the lives of others already showed promise.
After high school in 1949, he became a magazine photographer and worked as an assistant to a studio photographer and assisted him in the darkroom.
He learned photography by studying The Techniques of the Picture Story (1945) by Dan Mitch, a photographer, and Edwin Eberman, an artist, both editors of Look Magazine. Probably his first steps in learning the art.
Goldblatt's first professional camera was an Argus C3 35 mm camera and he started developing his film and photographs in a homemade a lab that he shared with his brother Dan.
Goldblatt's photographic career was put on hold when his father was diagnosed with cancer in 1952 and he had to take over the management of the family clothing shop. This sparked his interest in business and he concluded a BCom degree through part-time studies at the University of Witwatersrand. However, the income now provided funds for his original passion and he purchases his first Leica and his own enlarger. He leveraged off this new equipment to improve his photographic and lab skills learning mostly from Ansel Adam's techniques from his basic photobook series. He applied this learning producing his own adverts for the clothing shop. The Leica and new enlarger produced sharper images and his understanding of printing and of managing tones improved significantly. Something that will become the hallmark of his photography.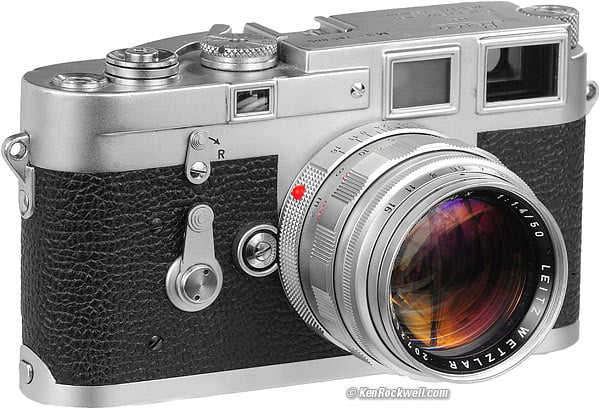 What happened next was to be life-changing for him. Apartheid started to take hold of the country, combined with the signing of the "Freedom Charter in December 1958, the Sharpeville protest in March 1960, and the Rivonia trial in 1961 which developed into the backdrop against which he started to work on one of his first major works. Let's have Goldblatt himself introduce the work Some Afrikaners photographed:
"Apartheid was a grey matrix of legislation and regulation hanging over the country, penetrating, restricting, controlling, cramping every aspect of life. Nothing and no one escaped it. Those who conceived and made it manifest, ideologies, philosophers, religious leaders, lawmen, policeman, men and women of power, supreme in their conviction of national and racial superiority, were mostly Afrikaner (Goldblatt, 2018.) ."
"In my father's clothing shop in Randfontein, I served many Afrikaners: Farmers, miners, plot holders, railwaymen, officials, doctors. They tended to be austere, upright, unaffected people of rare generosity of spirit and earthy humour. Possibly most, I surmised, were supporters of the National Party and its policy of apartheid. I had great difficulty to get my head around these contradictions."
My father died in 1962. In 1963 I sold the shop, became a fulltime photographer and not long after embarked on an essay to explore my relationship with people whose energy and influence so pervaded my life and place of birth. Here are some of the photographs." (Goldblatt 2018)
The body of work started as a series of photographs of Afrikaners he called "People of the plots" supported by his own text. Eight of these photographs were published in a British Magazine "Photography (August) 1963".
Note the even tones, the sharpness and focus of the Leica with a wide-angle lens and the 35 mm frame format. The ladies and gent are clearly in good spirit and bantering, the sixties clearly present in the ladies hairstyles and dresses.
The Plot holder scene is in the most commonly used space. A family gathering for lunch in the kitchen. The simplicity is prevalent but normal for Goldblatt. The Plot holder is a hardworking, rustic, sun scoured man dressed for manual labour. The son is dressed in khaki to do chores. He seems upset as if he was reprimanded. He lowered his eyes as a sign of respect and submission to his dada authority. Goldblatt use of tones was excellent. There are details in the dress. The food on the table spells out simplicity. The wife's unkemptness reminds a one a bit of the migrant mother. Only the four tin cups on the table make you aware that there is a fourth person at the table. They seem to be comfortable with Goldblatt. The cordial on the table is probably reserved for the guests and maybe the reason for the discussion. This is an unposed photograph taken with a Leica. I like the way the boy is juxtaposed with a black and the father with a white background making them the principle elements of the scene. The wife is clearly in support of the husband. The details on the table are unadjusted and the cleanliness of the table only broken by the luxury of breadcrumbs on the table. All this and the cabinet which is now a distant relic making this an excellent documentary photograph. A complete story in a photograph. Clearly taken with a low ISO film and using a lens with a normal perspective, probably a 50mm, perfectly framed without parallax error in a rangefinder camera.
Goldblatt describes his method of engagement:" I would stop and ask people if I might do some portraits of them or spend some time with them while they went whatever they were doing. In this way, I became intimate with some of the qualities of everyday Afrikaner life in these places and its deeply embedded contradictions (Goldbaltt 2007)".
In 1964 Goldblatt sends some photographs to England to the magazine editors of Town which earns him a commission to do work for Anglo American Corporation … the turning point in his career. This provided him with a work opportunity with a South African Magazine and he purchases himself a medium format Hasselblad Camera continuing to photograph with his Leica as well.
In the same year, he meets Sam Haskins, a British photographer, who was born and raised in South Africa, who becomes a mentor to him and influences the way Goldblatt would put together his photography books. Nine of the photographs in the yet to be published Some Afrikaners photographed is published in the New York Times Magazine ( 6 February 1964). Between 1967 and 1968 he and Haskins create his first dummy book for publication but not being able to get a co-publisher the endeavour fails in spite of interest by an English publisher. The publication of 7 of his Photographs in 1969 in a Swiss magazine is noticed by the South African press and the Dagbreek and Sondag Nuus newspapers publicly attack his work. The nationalists felt that he was ridiculing the Afrikaner and was not presenting the Afrikaner in the way they wanted to present themselves. In 1975 Goldblatt partnered with Ivor Powel and Anjie Krog, a respected Afrikaner writer and managed to published the book.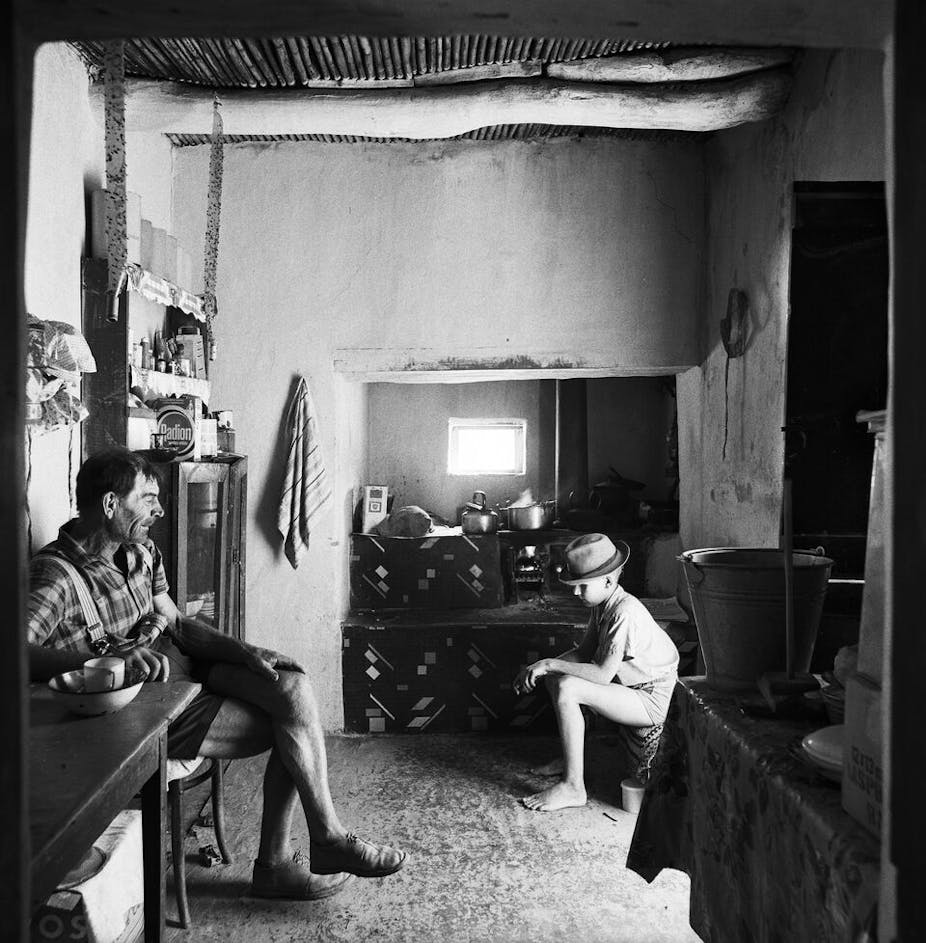 Referring to the previous picture; take note the square format of the Hasselblad. Goldblatt was rapidly developing an aesthetic and style of his own. He captures people interacting with each other. Imbedding himself with them and getting them fully comfortable. He generally makes use of a normal perspective lens to create a natural eye view of the scene while carefully taking control of the exposure and using a low ISO film. Again set in a kitchen, the relationship between father and son is clearly in play. Dad is kidding with his son who lowers his eyes in respect.
The photograph above is a middle-class Afrikaner woman and her daughter. I have taken a similar photo in the '80s with my wife, father in law and mother in law. The arches of the monument represent the Ox Wagon tents but are visually supported by the structure of the huts… In a way linking two opposing cultures with a shared heritage. The Day of the Vow represents a bloody battle between the Voortrekkers and the Zulu's and is not celebrated as a victory but a religious thanksgiving remembering being delivered from certain death. It is still observed by religious Afrikaners until today. The photograph is unposed. It is as if he took this photo without permission. He clearly used his Leica with a 50mm lens here too.
This photograph illustrates the common quest of two men to build a better life. The tight muscles show the commitment and passion for hard labour. This is my favourite photograph as presents what was, and what can be. The harshness and beauty of the land to be tamed.
The story of Some Afrikaners presents Goldblatt's persistence, attention to detail, dispassionate engagement and a willingness to tell the story as he sees it. His photographs seek not to judge, humiliate and present people in an idealistic or propagandistic way.
He states: "Something, in reality, takes me. It arouses, irritates, beguiles. I want to approach, explore, see it with all the intensity and clarity that I can. Not to purchase, colonise or appropriate, but to experience its isness and distil this in photographs." (Goldblatt, 2018)
David Goldblatt was no Flaneur or voyeur. He engaged, loved the people he photographed and merely loved photography. I sense the Walt Witman romantic in him. He had the ability to capture both the ugly and the beautiful, the ordinary and the mundane and manage to get out the value from all. He mastered his skill with practice, dedication and persistence and always seeking to improve. His landscapes are about the undertones, the road less travelled and the people he photographed; those that others considered "inappropriate" or "unimportant". What he saw was the country he was born into and the true souls of people he has come to love and respect, in spite of their colour, religion, and ideologies. He makes a very important point, making us see that even good people can turn out to support an idea that goes contrary to their personal belief system if they fear the future or see certain groups of people as sub-human.
Goldblatt did not limit his work to the Afrikaners and I am considering reflecting on other works from David Goldblatt in my next semester. I would like to compare his practice with other contemporaries for whom I have similar respect: Alf Khumalo and Peter Magubane.
David Goldblatt passed on on the 25th June 2018 from cancer never ceasing to create photographs.
I previously shared a blog of his photographs regarding the Afrikaners in the Gamka's kloof. To read more on David Goldblatt and the Gamka kloof read this earlier blog follow this link https://ancrj.blog/tag/david-goldblatt/ (Nagel,2019)
References
Nagel, A. (2019). David Goldblatt – André Nagel's Critical Research Journal. [online] André Nagel's Critical Research Journal. Available at: https://ancrj.blog/tag/david-goldblatt/ [Accessed 2 Dec. 2019].
En.wikipedia.org. (2019). Argus C3. [online] Available at: https://en.wikipedia.org/wiki/Argus_C3 [Accessed 2 Dec. 2019].
Goodman-gallery.com. (2019). [online] Available at: http://www.goodman-gallery.com/artists/david-goldblatt/bio_image [Accessed 2 Dec. 2019].
Rockwell, K. (2019). LEICA M3 (1954-1967). [online] Kenrockwell.com. Available at: https://www.kenrockwell.com/leica/m3.htm [Accessed 2 Dec. 2019].
Goldblatt, D. (2018). David Goldblatt – structures of dominion and democracy. 1st ed. Gottingen: Steidl Publishers.
Goldblatt, D. (2007). Some Afrikaners revisited. Roggebaai, South Africa: Umuzi.